NATA HATCHET W/HOLSTER - BAREBONES
NATA HATCHET W/HOLSTER
Out of Stock
95,00 €
A nod towards the timeless design of Japanese implements, the Nata Hatchet is as handsome as it is functional. The 7" easy-sharpen blade features 5mm thick 4Cr14MoV full-tang stainless steel, ideal for all-around outdoor work. With a wide bevel and serious heft, this hatchet handles controlled chopping, kindling splitting, and trimming with ease. The extra-long edge makes it a go-to for pruning, debarking, and removing limbs. Durable, smooth hardwood walnut handle reduces vibration in hand and resists cracking over time. Intentional details like the copper lanyard ring elevate this hatchet to an impressive quality. The Nata Hatchet is the perfect outdoor tool to add to your wilderness arsenal.
The ultimate shield for the ultimate tool, Nata Sheath unites utility and design. Made of 900D polyester with an interior liner, it weathers real-world use while protecting the blade from dulling. Stainless steel belt clip supports easy carrying and accessibility, while the strong handle strap restricts the blade from slipping or moving. Open-end allows for easy cleaning and prevents soil buildup, preserving the blade for years of continued use. Accented with full-grain leather and copper to complement the rest of our Woodsman Collection.
• Japanese-inspired design
• 5mm thick 4Cr14MoV full-tang stainless steel
• 7″ easy-sharpen blade
• Durable walnut handle with copper lanyard ring
• Balanced for controlled chopping and trimming
• Rugged and mold-resistant 900D polyester sheath
• Copper-finished snap closure with leather strap
• Heavy-duty stainless steel rivets
• Metal belt clip
Materials:
4Cr14MoV Stainless Steel
Walnut
900D polyester
Copper
Items Included:
1 Japanese Nata Hatchet
1 Sheath
Dimensions:
16″ x 3.50″ x 1″
1.80 lbs
Blade:
Apply a thin coat of protective oil after each use. Wipe clean of dirt, water, and fingerprints regularly. Use a medium to fine file to straighten out any larger dings or nicks in the blade. The edge can be honed with a medium sharpening disk or stone.
Sheath:
Waxed canvas should never be dry cleaned or machine washed. It can be cleaned carefully by hand. Brush off the loose dirt, rinse the surface with cold water, gently scrub with a brush, then let air dry. If stains persist, use mild bar soap or saddle soap.
After cleaning, waxed canvas may need to be re-waxed. To do so, use a wax conditioner and apply following the manufacturer's instructions.
Out of stock
SKU:

BARENATAHATCJAPASS22-STEEL
Category: Lifestyle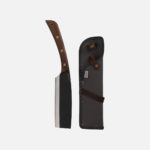 NATA HATCHET W/HOLSTER
95,00

€
Out of stock