LOUIS - BLEU DE CHAUFFE
LOUIS
295,00 €
Inspired by tradesmen's bags, Louis is the Bleu de Chauffe's small satchel for men and women, made from vegetable tanned leather. Very smart yet heavily inspired by "workwear", it is specially designed to be convenient and quick to open, and can easily fit an iPad and more.
The Bleu de Chauffe label, signed and dated by the artisan who created the bag, is sewn onto an inside zippered pocket.
Size: L 26 x H 21 x P 8 cm
Handmade in France.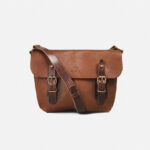 LOUIS
295,00

€
In stock